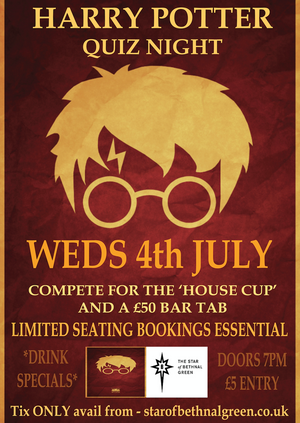 Harry Potter Quiz Night
4th Jul 2018 7:30pm - 10pm
Add to Calendar
2018-07-04 19:30:00
2018-07-04 22:00:00
Europe/London
Harry Potter Quiz Night
Harry Potter QUIZ NIGHT at the Star of Bethnal Green - Weds 4th July. Calling all Witches, Wizards and Squibs to come and test out how sharp your Wizarding knowledge really is at the Star's Harry Potter quiz night!! - Yes squibs are welcome too…. We're not elitist at the Star.    A great mix of tough knowledge and picture rounds, team challenges and games rounds. Points and prizes will be given out for the best costumes, best team name, and of course for the best Potter knowledge!! Teams are competing for the House Cup, which includes a £50 bar. The quiz starts at 730pm so make sure you get there by 7pm, as the staircases at the Star do move so you don't want top get lost and be late for class or Professional McGonagall may just transfigure you into a quill.   They'll be Harry Potter inspired cocktails all night at the bargain price of 2 x £10. Come and prove your Potter knowledge amongst the biggest fans in East London for this very special night. Book your £5pp tix ASAP as seating is limited and it's sure to pack out! Teams are a max of 6 people.  Online bookings only!! Please note this is an over 18s event. http://starofbethnalgreen.co.uk/ https://starquiz.eventcube.io/events/12204/harry-potter-quiz-night
359 Bethnal Green Road, London, Greater London, E2 6LG
Event Details
Harry Potter QUIZ NIGHT at the Star of Bethnal Green - Weds 4th July.
Calling all Witches, Wizards and Squibs to come and test out how sharp your Wizarding knowledge really is at the Star's Harry Potter quiz night!! - Yes squibs are welcome too…. We're not elitist at the Star.
A great mix of tough knowledge and picture rounds, team challenges and games rounds. Points and prizes will be given out for the best costumes, best team name, and of course for the best Potter knowledge!! Teams are competing for the House Cup, which includes a £50 bar.
The quiz starts at 730pm so make sure you get there by 7pm, as the staircases at the Star do move so you don't want top get lost and be late for class or Professional McGonagall may just transfigure you into a quill.
They'll be Harry Potter inspired cocktails all night at the bargain price of 2 x £10.
Come and prove your Potter knowledge amongst the biggest fans in East London for this very special night.
Book your £5pp tix ASAP as seating is limited and it's sure to pack out! Teams are a max of 6 people. Online bookings only!!
Please note this is an over 18s event.
http://starofbethnalgreen.co.uk/